Keeping Public Office Spaces Clean
Keeping Public Office Spaces Clean and Looking Fresh is Important to Your Business!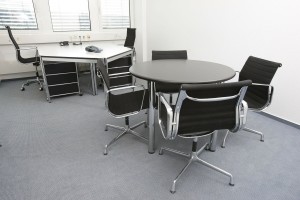 Every office is unique. That's why The Service Fort provides commercial cleaning services in the Atlanta area to knock out those public spaces that become a maintenance hindrance.
The three areas we have skilled expertise in include, but are not limited to comprise:
1. Public and Office Space
2. Break Rooms/Bathrooms
3. Floor Maintenance
Public and Office Space
This is among some of the higher traffic/volume areas. These areas are also known as "common space" areas, as opposed to private rooms or offices. For those spaces, we recommend vacuuming, dusting and emptying trash receptacles on a regular basis. Waste baskets can dispel unpleasant odors and distract customers, clients, or coworkers from their work. In addition, seating areas should be presentable without dust, crumbs or stains. Magazines or newspapers should be orderly and old materials should be recycled or disposed of properly. The public area should be inviting and orderly. If it could speak, the message it should send is "Welcome to our business! We care about our facility as much as we care about you!"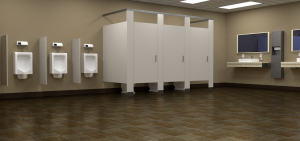 Break Rooms and Bathrooms
These areas often go overlooked when it comes to cleaning and maintenance. One job that is almost always forgotten is cleaning the refrigerator of old or spoiled food. Make a point to throw away old food at least once a week and disinfect the interior of the fridge. Bacteria can grow quickly and spread viruses, which can lead to illnesses. The same standard applies to microwaves, counter-tops, sinks, or dish drainers. Make sure to wash, wipe down and disinfect these shared spaces at least once a week to prevent mildew or bacteria. Bathrooms need extra care when it comes to disinfecting, especially if there is a community shower. It's best to spray down all community areas with Clorox or some other type of disinfectant to kill germs and keep the area clean for the employees using it. Soap and hand sanitizing dispensers should be refilled as necessary and displayed in areas easily accessible for employees and/or clients.
Floor Maintenance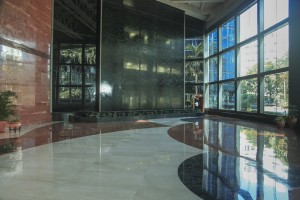 This is another vital task in making sure a public space is tidy and clean. When mopping floors, be sure to use safety signage such as cones or "Wet Floor" to prevent accidents. At The Service Fort, we utilize a floor buffing machine as well as the proper tools for shampooing carpets to leave your business looking and smelling fresh. High traffic areas may need more "love" than other areas and should be taken into consideration when putting together a maintenance plan.
At The Service Fort, we work to build relationships and create partnerships with our customers, vendors and employees. We have unique janitorial program services that leave your public spaces looking and smelling fantastic. If you're interested in implementing a program for you and your employees to enjoy a healthier workplace, contact us to get started.
To learn more about our services, or a facility consultation, give us a call (770) 856-5751