Hand Sanitizers in the Workplace
The Importance of Hand Sanitizers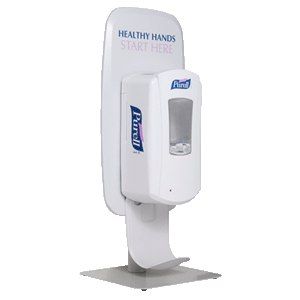 Hand washing is one of the best ways to stop the spread of the influenza virus and germs. In most work environments, a hand-washing station is not always readily available. By providing your employees with easy access to hand sanitizers, you can keep the flu from significantly affecting your company.
Using hand sanitizers is a good daily habit and a preventative measure your workers can take to keep from contracting influenza. These products work by destroying most of the germs that exist on the hands. Every time you — or one of your employees — touch a surface that's infected with germs and then touch your face, or other work spaces, you're taking the chance of introducing those germs into your body. The alcohol content found in some hand sanitizers quickly kills most germs, making it an efficient method to quickly disinfect until a more thorough hand washing can be done.
The effectiveness of hand sanitizers in the workplace
The active ingredient in hand sanitizer disrupts the coating of virus and bacteria particles. By damaging the outside of the particle, the virus becomes deactivated, says Andrew Pekosz, associate professor of microbiology and immunology at the Johns Hopkins University Bloomberg School of Public Health.
To read more about the importance of hand sanitizer click here.
About The Service Fort
The Service Fort, LLC currently cleans over 6 million square feet every night. When you interface with a Service Fort professional, we listen to your wants, needs and budget from which we base our Healthy High Performance Cleaning program (HHPC). Our HHPC program can help improve the image of your facility, as well as show your employees, customers or tenants that you care about their health in the workplace.
To learn more about our services, or a facility consultation, give us a call (770) 856-5751.