Affordable Office Products
Affordable Office Products From Office Zilla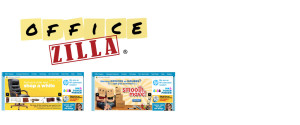 The Service Fort has provided Atlanta and the surrounding area with janitorial services and facility management for many years. It is through the valuable relationships and partnerships our business has been named on the Cobb Chamber Small Business of the Year Award for the past several years and on the Inc. 5000 list.
Now, we are excited to announce the expansion of services. We are proud to offer the capability of purchasing office supplies in partnership with Officezilla. We now have the capability to provide affordable office products and janitorial services to any business. You can purchase anything from calendars, planners, personal organizers to break-room supplies and office furniture. Same day shipping is available.
It is through our innovative products, dedicated employees and our commitment to service that we're able to expand our services and grow our business. From everyone here at The Service Fort, thank you for your patronage!